Why Choose Quintessential Plumbing?
It's simple:
We Love People & Plumbing
Lifetime Workmanship Warranty
Totally Dependable
Fixed Pricing
24 / 7 Emergency Response
Reputable Plumbers with over 100 reviews online
$100 off

hot water systems

get job discount
Book online to receive
$50 off
get job discount
Blocked drain services
from $88
get job discount
Buying the new kitchen faucet will be quite a chore if you do not have that clear thought of what you really want or what precisely you had been searching for. When you are not prepared to merely choose the great looking option that is within your budget (this is a technique that will likely have you searching for one more replacement soon), the countless options and styles available will make finding an ideal fit for the kitchen challenge. But do not fret: it's not really too hard to slice by the noise and search for the one!
New Sink, New Faucet, or a New Kitchen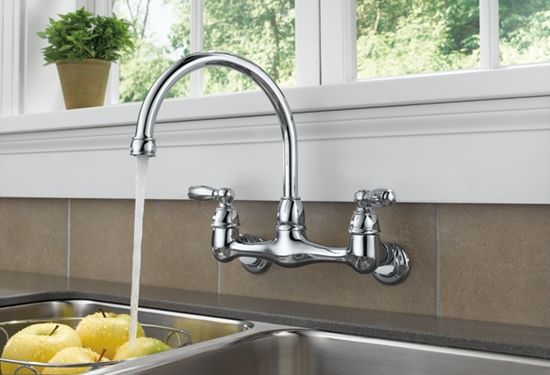 The primary thing you will want to find out is a mount-type that you want or need: sink deck, wall or countertop. This relies on whether the sink will be going to be as new one – a new sink will give you the freedom to select where a faucet goes (particularly when it is part of the wider remodel or the new build). When you are changing a faucet, you may largely have to place the existing installation.
You may also need to be aware of how many holes will be available on your countertop or sink deck or if it is possible to have an additional drill should your faucet demand it. Lots of single handle faucets may require only a hole, while 2-handle faucets can require 2-3. Additional holes will be needed for the things like filter faucets, soap dispensers and air gaps – so really count carefully!
New Sink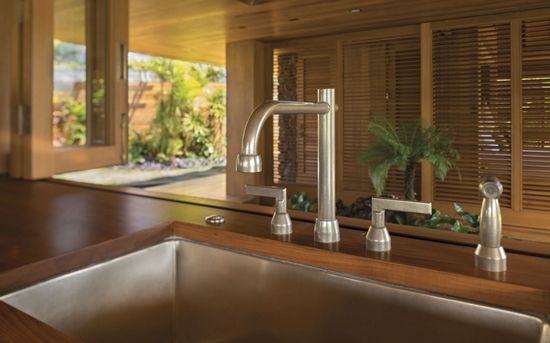 If a faucet is for the new sink (and it will not be mounted on your wall), hold off to the sink until then that you can find a faucet that you want. Because with the majority of the sinks, you may specify the location and the number of the holes on a sink deck – it will leave you free to choose nearly any type of deck-mounted faucet that you see. Buy a sink too soon, then you will be stuck with a configuration originally chosen.
Take note that some sink materials permit for added holes for the home drilling and can even come with the scored knockouts to create the procedure that easy. But because of the danger of cracking and damage – mainly with fire clay, natural stone sinks and cast iron – making your own holes must be avoided when needed.
Likewise, the faucets being set-up in the latest countertop must also be settled upon before finalizing a counter installation to be certain that the holes are drilled wherein they are needed.
Existing Sink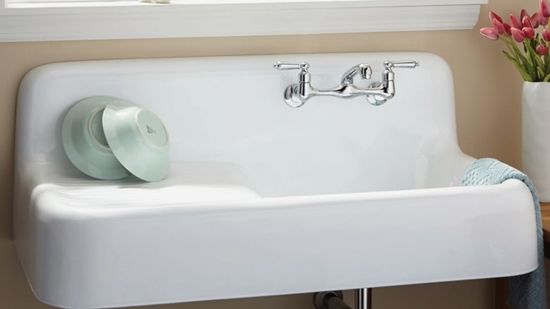 Looking for the new faucet for the old sink takes compatibility to the forefront. What if you locate your dream faucet and it needed more holes in the old fashioned cast iron sink? Not unless you are more willing to seize the danger of drilling in the deck (or will pay for the professional to do it), you will need to keep on looking.
But, if the faucet that you desire will require fewer holes compared to the sink that you already have, it is then much easier to trade with it: escutcheons, deck or base plates, and the faucet holed covers will be available to easily cover the hole together with the attractive finish. Most of the faucets may be ordered together with the extended deck plates that will cover the present holes on either side of the faucet. When only a hole is being left exposed, consider about adding the soap dispenser or the faucet and the water filter.
Be extra careful when selecting plates or escutcheons for covering the holes: through some installations, a bigger cover will bump right up alongside a wall, making the little space that may soon begin gathering grime and water. As you may know from the experiences, these small spaces are really impossible to clean efficiently.
Wall-Mounted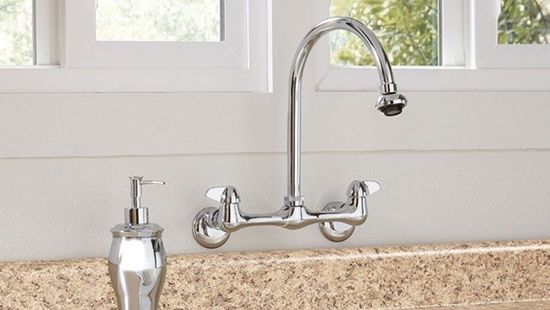 Interested to upgrade to having a wall-mount type of faucet? You may be sure that your sink location and also the studs of your wall are such where a faucet will line up with a sink core line (or in whatever point that you wanted it) and also that a handle will completely turn. In most cases, studs may be in need of relocation.
When the wall behind the sink is an exterior wall and you are dwelling in the cold winter climate, then, you should possibly go to another route: the water supply pipes of an exterior wall will simply freeze when the temperatures drop. Insulating those pipes will be a big help, as will heat cables, however, there are will be no guarantees about it. If you decide to go on, it is recommended to be prepared for what is worst.
Secondary Faucets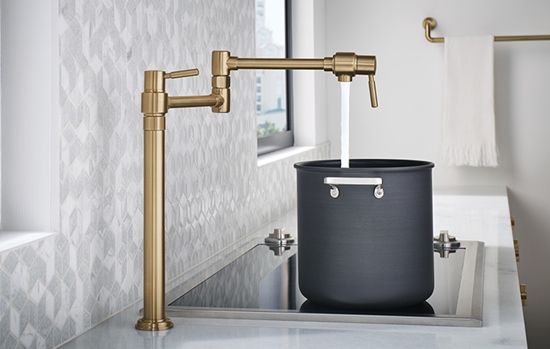 When a faucet will not be enough for the busy kitchen, then, it is then time to add for another one. Preparation or bar faucets are a bit smaller for the smaller sinks, usually installed in the kitchen islands and at the bar counters. Anyone that had used one – even for just helping out to a relative's special gathering on Thanksgiving – will attest to the value, despite the price of needing added plumbing hookups and the bar/preparation sink. Space out a kitchen, dole up your work, and save much time – or add a final touch to the bartender act. Be careful in choosing your bar or preparatory faucet that should compliment with the main faucet – due to their location, the faucets will simply overpower a kitchen aesthetic.
The pot-filler faucets had been usually wall-mounted (although countertop editions are just out there) over the stove for that easy and quick filling of bigger pots for pasta, soup, and some other cooking needs. You will obviously need to own the water supply in your wall (which might be the undertaking, depending on your plumbing and kitchen layout), and also with careful measurements you're your mounting area to make sure that the faucet will attain where you need it. The great pot fillers can have the articulated spouts for that total flexibility. When you only need a thing that is simple, consider using the "wok faucet" – these had been normally just one straight spout that is coming out of your wall. Remember that, whatever will be the faucet or the mount type; be sure there will be sufficient room around or behind the handles to permit for the total range of motion and to have that tight installations search for the faucet whose handles will only move ahead.
Summary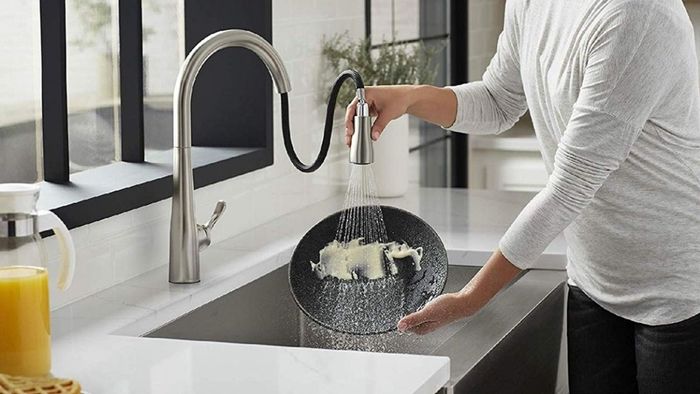 Article Name
Kitchen Faucet Information Guide
Description
Here in the kitchen faucet information guide will be quite a chore if you do not have that clear thought of what precisely you had been searching for.
Author
Publisher Name
Publisher Logo