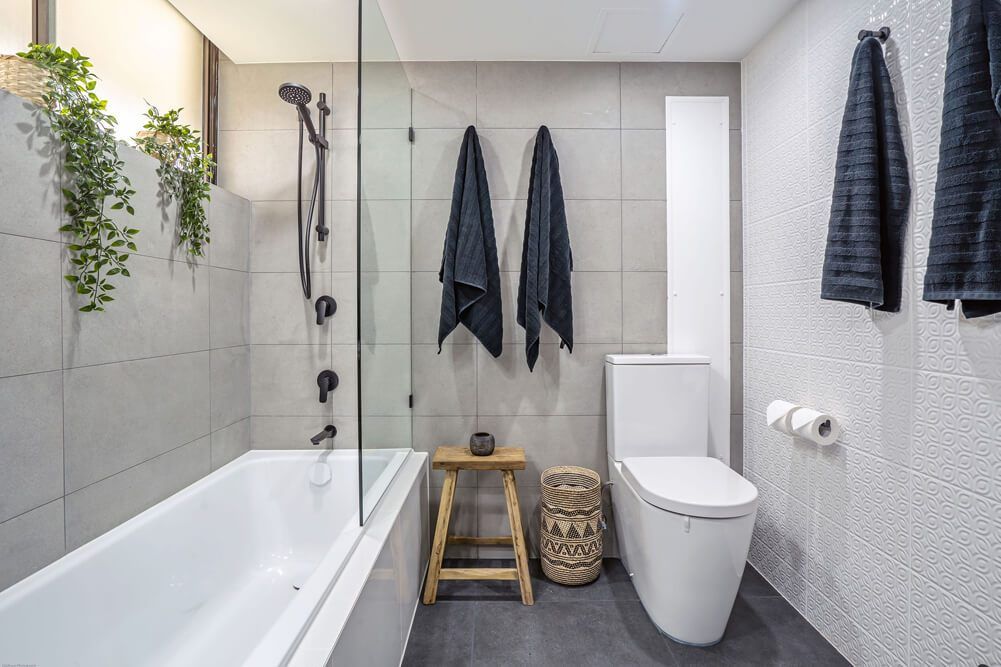 With isolation here to stay in Sydney and social distancing the new norm, it is the perfect opportunity to update your bathroom space. Our head plumber Kelvin has given us 6 ideas to refresh your bathroom at a low budget without having to call a plumber.
Updating your bathroom can be very rewarding and any work you put it will definitely pay off once it is complete. Some easy tips we have created will allow you to transform the bathroom without breaking the bank.
Replace Your Shower Head
Shower heads last for years but eventually they will begin to look dated or potentially start to leak. Replacing the shower head in your bathroom or ensuite is relatively cheap and can impact the overall look of your space. All you will need is a basic water saving shower head, shifter, utility knife and wire brush which can be purchased from your local bunnings store.
Removing the existing shower head and fitting a new one will take approximately 10 minutes and gives the bathroom space a new look! This quick plumbing solution can be done by anyone DIY, you will not require a licensed plumber.
Step 1: Remove the old shower head, you will require a shifter to loosen and unscrew it from the pipe. Also spray WD 40 on the thread for easy removal.
Step 2: Clean the thread with a utility knife, remove the flange and give it a clean, use the wire brush to remove any debris.
Step 3: Attach the Shower Head, screw the fixed mount shower head onto the end of the diverter, attach the hand held unit mount to the shower per the directions and connect the flexible shower hose.Turn on the water and divert water from the fixed to the hand held unit.
Replace bath spout
Does your bath spout need replacing also? Follow the same directions as the shower head, same principles apply. Ensure you install a spout that is water efficient, we always recommend a swivel bath spout to move out of the way so the kids don't hit their head in the bathtub.
Update the lighting in the bathroom
A simple task which will help practically and aesthetically. Do you have a light in the bathroom that hasn't been working for sometime? Or never had the chance to swap the bulbs to nice warm light, now is your chance.
Illuminate your bathroom design, you will not require a licensed electrician for this job and you can find a variety of nice lights at your local Beacon lighting store to suit your bathroom design.
New Accessories in the Bathroom
Make a trip to store or shop online, update the soap dispenser,toothbrush holder, add a wooden stool, add a new plant or simply change the accessories colour schemes, get DIY savvy and brainstorm how you can add some character to your bathroom. Temple & Webster and many online retailers are doing mega sales on bathroom accessories during the Covid 19 isolation period so it is a great time to accessorise!
Refresh the bathroom with new towels
Sometimes the smallest details can create the most impact. When was the last time you purchased new towels for the bathroom? Treat yourself and your family with some new towels, go for a bright colour or a nice pattern and add some textures.
Organise your essentials in the vanity
Does your storage cupboards look like a bomb has hit it ? Cleaning and organising your bathroom essentials will help you easily find items and we are certain you will also find some goodies you completely forgot about! Take this time in isolation to organise and clean!
Sydney's Bathroom Specialist
If you have questions regarding bathroom solutions or would like to seek an estimate for your bathroom, speak to a qualified plumbing expert, book online today. If you are after a complete start to finish renovation contact our friends Fresher Bathrooms. They are experts when it comes to bathrooms across Sydney and its surroundings, so get in contact now!